In the allegorical tradition of Tolkien and Lewis
comes a powerful new myth for a new generation.
This edition of the
Christian Science Fiction and Fantasy Blog Tour
features
Robin Parrish
and his Dominion Trilogy, with emphasis on
FEARLESS
, the most recent release.
Robin may be familar to some of you Christian (a)Fiction(ados) for publishing
Infuze Magazine
online. I first discovered Infuze via the group at Faith in Fiction's message board, and I tended to return to read the articles on SF and comics. It was the first place I found online that had Christians talking about comics. I've found others since.
I've only just started reading the first novel in the Dominion series,
RELENTLESS
, and the chapters I've read definitely have a comics feel in terms of weird goings on and superpowers and action pacing. This should appeal to a certain part of the CSF audience, right?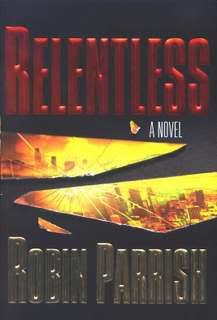 Here is info on the first of the three Dominion novels:
Grant Borrows' life has just taken a drastic left turn. There's another man in the world wearing his face and living his life. What's more, the man he sees in the mirror is a stranger.

Somehow, he's been Shifted -- his whole life fundamentally altered, in the space of a single breath. But the changes don't stop at skin-level. Inexplicably, he's able to affect objects around him by simply thinking about them. And as he soon learns, he's become the central figure in a vast web of intrigue that stretches from an underground global conspiracy to a prophecy dating back over seven thousand years, that tells of his coming. Enemies and allies find him at every turn, but one thing they all learn very quickly is that you don't want to push Grant Borrows too far...

Can destiny be undone?
The story takes up in the second book,
FEARLESS
:
The world changed after that terrible day when the sky burned, and now every heart is gripped by fear...

Earthquakes, fire, disease, and floods pummel the earth, and its citizens watch in horror.

But in the darkness there is hope -- an anonymous but powerful hero whom the public dubs "Guardian." He is Grant Borrows, one of a chosen few who walk the earth with extraordinary powers. But while Grant enjoys this new life, signs of a dangerous ancient prophecy begin coming true, and those closest to Grant worry he may be hiding a terrible secret.

A search for answers brings Grant and his friends to London, where an extraordinary discovery awaits that will challenge everything they thought they knew. With a deadly new enemy dogging his steps, Grant realizes that the world's only hope may come from unraveling the truth about himself once and for all. But what he comes face-to-face with leaves even this most powerful of men shaken with fear.

Secrets will be revealed.
Friends will make the ultimate sacrifice.
And destiny will not be denied.
Excerpts for both novels are found at
Robin's site.
An interview with Robin has been posted at Writing with Fire blog.
Robin's blog
is over at Infuze. Drop by. Say hi.
If you wish to purchase Robin's RELENTLESS and/or FEARLESS, please click through the following amazon.com links, and help the Mirathon kitty:
And do visit the blogs of my tourmates in the
Christian Science Fiction & Fantasy Blog Tour
:
Trish Anderson
Brandon Barr
Wayne Thomas Batson
Jim Black
Justin Boyer
Grace Bridges
Amy Browning
Jackie Castle
Valerie Comer
Karri Compton
Frank Creed
Lisa Cromwell
CSFF Blog Tour
Gene Curtis
D. G. D. Davidson
Merrie Destefano
Jeff Draper
April Erwin
Linda Gilmore
Beth Goddard
Marcus Goodyear
Andrea Graham
Russell Griffith
Jill Hart
Katie Hart
Sherrie Hibbs
Christopher Hopper
Jason Joyner
Karen
Dawn King
Tina Kulesa
Lost Genre Guild
Rachel Marks
Rebecca LuElla Miller
Eve Nielsen
John W. Otte
John Ottinger
Robin Parrish
Lyn Perry
Rachelle
Cheryl Russel
Hanna Sandvig
Chawna Schroeder
Mirtika Schultz
James Somers
Steve Trower
Speculative Faith
Jason Waguespac
Daniel I. Weaver