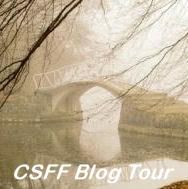 "Yes, my theology totally impacts my writing. What I believe directs how I think and live – often in a very conscious way – and my life directs my writing."
Karen Hancock in an interview by Shannon McNear
Today we conclude this Christian Science Fiction and Fantasy Blog Tour round with a look at the last two novels in the four-part
LEGENDS OF THE GUARDIAN-KING
series. (Make sure to read all the way or scroll down to find out how to enter book giveaways from the author and from me.)
Before we go to the books themselves--what others say, excerpts, etc--one can ask oneself, "Why write a Christian fantasy series?"
Hancock speaks to this on
her blog
:
Fantasy is full of great analogous tropes, and so I've chosen it for the foundation of my work. The essay, In Defense of Fantasy on my website goes into this in detail so I won't here. I enjoy using those stock elements in building a story that can fairly directly communicate what I've learned and what I value.

Of course life and especially the spiritual life is far too vast, complex and mysterious to be able to codify all the elements in a tidy, coherent one for one pattern. Even assuming I could understand it all, which I can't. So I set up a few general parameters for the world and the magic, parameters that reflect essential truths in our real world, and go from
The place at which she arrived works for many readers. Over at
KC Reviews
, this:
Not since Tolkein have I come across such a well-devised world. Kiriath is no Middle Earth, nor is it Narnia, but it made me think of Camelot or some such landscape. Knights, coups for the kingship, religious fanatics, sea battles, slavery, dragons, disguises, sword fights and rescues rule the day. And let me tell you, the plot is thicker than a twelve-layer cake.
And the spiritual aspect of the saga, particularly
RETURN OF THE GUARDIAN-KING
, the grand finale, rouses
Kameron
to post:
Throughout the series, Abramm is subjected to trial after trial. He is not the only one, but his suffering takes center stage as the central character. While Karen Hancock did a masterful job of getting me emotionally involved in Abramm's struggles, a shadow of discontent steadily grew as I read. That discontent steamed from my perception of what the author was saying about the nature and purpose of suffering.
(Kameron, I still can't comment on your blog, even when I"m logged into wordpress. ARGH!)
One of the more intriguing comments from Karen regarding the spiritual aspect of the series (to me, anyway) came in her interview over at
Shenandoah's Eclectic Musings
:
The Guardian King series is meant to represent the stages of spiritual growth an individual believer passes through from salvation through babyhood and adolescence to spiritual maturity. It is entirely consistent with that objective that RotGK, the final book in the series, would be heavy on the spiritual element because that is what defines the life of a spiritually mature believer. He has come to the point of being occupied with the things of Christ.
I doubt any believer would quibble that such a journey is worthy of its own story in four-parts.
On to the books:
SHADOW OVER KIRIATH
Christy Award Winner
On Christian Fiction Review's list of best Christian novels for 2005
Sharon Hinck
reviewed it in 2005, and said:
Abramm faces his most glorious victories and his darkest suffering—all with a new level of maturity and wisdom. I especially enjoyed his blossoming relationship with Maddie, and the swashbuckling adventure of the story.

I was also inspired by the example of a man who battles the same temptations I do—fear, doubt, confusion and constant awareness of scars and weaknesses. Hope grew in my own heart as I read about a man who comes to the end of himself and finds he is never alone.
EXCERPT:
"Abramm Kalladorne will fall, Vesprit." The rhu'eman warhast Hazmul did not speak the thought aloud, but the breath of his host body fogged the window glass before him anyway, blurring his view of the snow-dusted Grand Fountain courtyard below. In the gray light of the foggy early-spring morning, a lengthening line of gleaming carriages queued up at Whitehill's front entrance to his left, preparing for the coronation procession. "If all goes as planned, that fall will begin today." He sipped from his porcelain teacup, then added, "All is going as planned, I trust?"
Though his rhu'eman underling, Vesprit, stood behind him, Hazmul didn't need to see him to sense the pleased confidence rippling through the underwarhast's essence. "It is, sir," Vesprit replied.
"You've cracked the stone and awakened the miniol?"
~~
RETURN OF THE GUARDIAN-KING
Shannon
mentions the following in her review, which I especially liked:
However, this was a hard read in some aspects—just too personal and intimate to be purely entertaining. We delve so deeply into Abramm's spiritual journey—and indeed, this is more about his spiritual walk, manifested in the natural, than daring exploits and heroic military maneuvers—that I'm afraid some readers will complain that the author has been too heavy-handed and preachy. For me, I stand in awe that this work, begun close to two years ago (if I remember correctly), speaks so deeply to right where I am in my walk with God, now. And, because I've been struggling so hard against the waiting in my own life, it was hard not to be ticked at seeing the characters have to wait, too … the delays, the side trips, God's "no, I want you to go here and learn this lesson first."
Excerpt:
"I dream of the meadows, green-gold 'neath the sun, sweet with the dew of the morn ..."

The bell-toned voice drew Abramm Kalladorne into the sunlight of the open meadow, a yellow butterfly zigzagging ahead of him above a patch of purple lupine. He pressed through the bloom-laden stalks into rippling grass, following the plucked notes of a lirret and a voice as familiar as his own. She must be just beyond that primrose at the meadow's far edge.

Children's laughter echoed in counterpoint to her sweet voice, and his pace quickened. Ian would be over two by now, walking well, maybe even talking in phrases and sentences, while Simon would have left all his toddlerhood behind, a real little boy at last. Then there was Maddie. Abramm ached for her so badly sometimes he could hardly bear it. Now finally, that was behind him. All the worrying about threading the high passes before winter closed them had been for naught. In a moment he would step around that bush and there she'd be, her gray-blue eyes widening with surprise at the sight of him an instant before she'd cast her lirret aside and fling herself into his—

His foot slipped, and he lurched to regain his balance, gripping his walking staff hard as he drove it into the snow. The misstep jolted his entire body as the vision winked out and the dark, icy reality of the blizzard-swept heights filled his senses again. She wasn't here. His boys weren't here. There was no meadow. The passes were not behind him, and winter was very definitely closing in....

Realization slammed him so hard he reeled to a stop, struggling to breathe as he felt again the cold and the exhaustion and the misery. Wind screamed around him, pelting his heavy woolen cloak with slivers of snow and flapping its snow-caked hem about his legs. For a moment the desire to give up was so strong he nearly collapsed.
~~
As I mentioned yesterday,
Karen is having a giveaway
AT HER BLOG. Here is how to enter:
If you would like to be in the drawing for a complete autographed set of Legends of the Guardian-King, please leave a comment for me today through Wednesday saying so. I'll choose from the entrants' names Wednesday evening and post the winner Thursday. You only need to leave one comment telling me you want to be in the drawing. If Blogger won't let you comment, you can send me an email through the address given in the profile. Be sure you put something like Blog giveaway in the subject line so it won't get lost in the junk mail.
Better yet, buy them all. Here are the product links. If you plan to buy them, please use my links and help my "Mir Book Fund" at amazon. Or if you prefer CBD, buy them there. But pump up the sales of the LofGK, especially the new book,
RETURN OF THE GUARDIAN-KING
, and those sales will encourage editors to continue to acquire and supply us with quality Christian SF.
So, enter
Karen's giveaway at her blog
or BUY THE BOOKS, but, either way, GET THEM.
MIR'S GIVEAWAY:
And if you've dropped by here and read this blog tour entry, you should know that *I* am giving away a book, too. Maybe you never bought the first. Maybe you have the first two or three, and want novel #3 or #4. Whichever one you want or need, if you win the giveaway, you get to pick ONE BOOK from the four titles listed ABOVE in glorious amazonish color.
How to Enter to win one LEGENDS OF THE GUARDIAN-KING book:
Leave a comment saying "I WANT A FREE BOOK" and leave me your email in that address. Also, mention which in the series you want: 1, 2, 3 or 4.
Note:Disguise your email (example: JohnnyDoe atsy gmail dotdotdot com). Just for your safety.
Note #2: US RESIDENTS ONLY. See the note on my sidebar that's been there since 2006.
I will take all the names and choose one at random, and I'll post the winning name here Friday, and I'll contact you at your email to get your snail mail addy. I'll wing your book to you within a couple of days thereafter. So, commence with the commenting.
When you're done commenting, visit my delightful tourmates:
Nissa Annakindt
,
Wayne Thomas Batson
,
Jim Black
,
Jackie Castle
,
Valerie Comer
,
Karri Compton
,
Frank Creed
,
CSFF Blog Tour
,
Gene Curtis
,
D. G. D. Davidson
,
Chris Deanne
,
Janey DeMeo
,
April Erwin
,
Kameron M. Franklin
,
Linda Gilmore
,
Beth Goddard
,
Marcus Goodyear
,
Rebecca Grabill
,
Andrea Graham
,
Jill Hart
,
Katie Hart
,
Sherrie Hibbs
,
Sharon Hinck
,
Christopher Hopper
,
Heather R. Hunt
,
Becca Johnson
,
Jason Joyner
,
Karen
,
Dawn King
,
Tina Kulesa
,
Lost Genre Guild
,
Kevin Lucia
and
The Bookshelf Reviews 2.0 - The Compendium
,
Rachel Marks
,
Rebecca LuElla Miller
,
Shannon McNear
,
Caleb Newell
,
Nicole
,
Eve Nielsen
,
John W. Otte
,
Robin Parrish
,
Rachelle
,
Cheryl Russel
,
Hanna Sandvig
,
Chawna Schroeder
,
Mirtika Schultz
,
James Somers
,
Tsaba House Authors
,
Steve Trower
,
Speculative Faith
,
Daniel I. Weaver