Welcome back to the Christian Science Fiction and Fantasy Blog Tour edition that's focusing on
Karen Hancock
and her
LEGENDS OF THE GUARDIAN-KING
historical fantasy series. While her most recent release is
RETURN OF THE GUARDIAN-KING
, that's the last in the series. I want to go back a bit for this post. (BTW, for information on the giveaways, Karen's and mine, make sure you read to the end-or cheat and scroll there.)
Today, I want to give you some information on the first two in the four-part series, in case you haven't read or are unfamiliar with the works.
First: LIGHT OF EIDON. (I would like to know how one pronounces that. Is it like Eye-done? EE-done as in the Garden of Eden? Like the name Aidan, as in Aidan Quinn? I say it all sorts of ways.) Here are some of the honors this novel received:
Winner of the Christy Award.
Winner of ForeWord Magazine's 2003 BOOK OF THE YEAR AWARD (Silver)
A Romantic Times 4 ½ star TOP PICK
One of Booklist's Top Ten Christian Novels 2004
Christian Fiction Review's Best of 2004
Elliot
gave LoE 3 out of 5 stars:
LoE is set in a fantasy world that's loosely modelled on Europe and Africa, with monsters and magic thrown in. It concerns the adventures of a young man named Abramm, also known as Eldrin (his monastic/'baptismal' name), as well as those of his twin sister, Carissa. They're of the house of Kalladorne, the royalty of the northern kingdom of Kiriath.

I don't want to give away too much of the plot. One thing I appreciated about this book is that it kept me guessing, and I don't want to spoil that for potential readers. For the first third of the book I thought Hancock was one of those authors who telegraphs her plot twists miles in advance - but then she pulled the rug out from under me. And then she did it again, and again. The twists I expected were, pleasantly, not the twists I got.
Now let's hear from
Heather Hunt at Absolute Write
:
Hancock's archetypal world includes the familiar motif of twins destined for greatness, but she gives it a unique twist in having the sister, Carissa, be the one who sets out to rescue her beloved brother, Abramm. Hancock writes with confidence, perfect pacing, and a welcome economy of words. (I often find books of this genre to be somewhat florid and lengthy.)

Though this tale begins a series, its main story comes to a definite ending at the end of this book. Several other storylines are left open to be explored in future novels. So the promise is there but not the frustrating gimmick of the cliffhanger. The Light of Eidon is a swashbuckling tale that satisfies on its own terms while pointing to further exciting adventures from a talented new writer.
A very brief excerpt from
THE LIGHT OF EIDON:
I will touch no weapon of warfare.

Violence feeds the Shadow.
He swallowed. Could he really kill another man? And if he did, was he any better than his opponent?

He watched the men laughing up at him, listened to the crowd, calling for his blood, remembered the Dorsaddi just before him, heart blasted out of his chest. And knew the answers to both questions.

Yes. And Yes.

As he pulled his blades free, something changed within him--his pent-up frustration finally found release. Suddenly he was no longer helpless. Alloying with all he had endured and seen this day, his anger forged a fierce determination to deflate their self-righteous assumptions of superiority.
~~~
The second novel in the series is THE SHADOW WITHIN: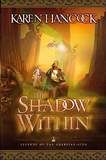 Here are some honors won by the novel:
Christy Award
Borders Best of 2004 "Religion & Spirituality"
Romantic Times Top Pick 4 ½ stars
Nominee for Romantic Times Best Inspirational Novel 2004
Christian Fiction Review's Best of 2004
Heather Hunt at SF Reader says of The Shadow Within
:
The pacing of these varied plots is masterfully handled. Each thread builds its own inner tensions, and the strands come together in surprising and satisfying ways.

The ultimate climax of the story is breathtaking, unpredictable, and gratifying while still leaving loose ends to be picked up by the next volume
Elliot's review
says:
Though this book is slightly more predictable than the first one (the identity of the romantic interest is more obvious, for example) Hancock remains adept at subverting a reader's expectations. Abramm's destiny seems genuinely uncertain. At times he reminded me strongly of Rand al'Thor from Robert Jordan's Wheel of Time books (not to mention Harry Potter): heroic young leaders who struggle to establish themselves and to prepare their people to face great evils, while being plagued by politics, magical assaults, and the puzzling affairs of the heart.
Excerpt from
THE SHADOW WITHIN
:
His senses keyed as tightly as if he'd just stepped back into an Esurhite arena, Abramm Kalladorne stood on Wanderer's quarterdeck with his two liegemen, nervously scanning the leaden waters of Kalladorne Bay. As the white cliffs guarding the bay's mouth slid silently astern, he wondered if the other men's stomachs had just done the same little twist his own had. Probably.

It was one thing to boast of slaying sea monsters and sharing fabulous rewards in the warm, smoky haven of a Qarkeshan tavern, quite another to sail alone past a gaggle of crudely made warning buoys into the quiet, empty waters of what had once been the busiest harbor in Kiriath. Off the port gunwale, a broken mast listed in the spray-plumed rocks at the base of the western headland. With shredded canvas still fluttering from its yardarm, it stood in silent memorial to all the vessels lost to the monster since spring—six of them fully rigged merchantmen weighing over five hundred tons. Large, strong, stable ships.
~~
As I mentioned yesterday,
Karen is having a giveaway
AT HER BLOG. Here is how to enter:
If you would like to be in the drawing for a complete autographed set of Legends of the Guardian-King, please leave a comment for me today through Wednesday saying so. I'll choose from the entrants' names Wednesday evening and post the winner Thursday. You only need to leave one comment telling me you want to be in the drawing. If Blogger won't let you comment, you can send me an email through the address given in the profile. Be sure you put something like Blog giveaway in the subject line so it won't get lost in the junk mail.
Better yet, buy them all. Here are the product links. If you plan to buy them, please use my links and help my "Mir Book Fund" at amazon. Or if you prefer CBD, buy them there. But pump up the sales of the LofGK, especially the new book,
RETURN OF THE GUARDIAN-KING
, and those sales will encourage editors to continue to acquire and supply us with quality Christian SF.
So, enter
Karen's giveaway at her blog
or BUY THE BOOKS, but, either way, GET THEM.
MIR'S GIVEAWAY:
And if you've dropped by here and read this blog tour entry, you should know that *I* am giving away a book, too. Maybe you never bought the first. Maybe you have the first two or three, and want novel #3 or #4. Whichever one you want or need, if you win the giveaway, you get to pick ONE BOOK from the four titles listed ABOVE in glorious amazonish color.
How to Enter to win one LEGENDS OF THE GUARDIAN-KING book:
Leave a comment saying "I WANT A FREE BOOK" and leave me your email in that address. Also, mention which in the series you want: 1, 2, 3 or 4.
Note:Disguise your email (example: JohnnyDoe atsy gmail dotdotdot com). Just for your safety.
Note #2: US RESIDENTS ONLY. See the note on my sidebar that's been there since 2006.
I will take all the names and choose one at random, and I'll post the winning name here Friday, and I'll contact you at your email to get your snail mail addy. I'll wing your book to you within a couple of days thereafter. So, commence with the commenting.
When you're done commenting, visit my delightful tourmates:
Nissa Annakindt
,
Wayne Thomas Batson
,
Jim Black
,
Jackie Castle
,
Valerie Comer
,
Karri Compton
,
Frank Creed
,
CSFF Blog Tour
,
Gene Curtis
,
D. G. D. Davidson
,
Chris Deanne
,
Janey DeMeo
,
April Erwin
,
Kameron M. Franklin
,
Linda Gilmore
,
Beth Goddard
,
Marcus Goodyear
,
Rebecca Grabill
,
Andrea Graham
,
Jill Hart
,
Katie Hart
,
Sherrie Hibbs
,
Sharon Hinck
,
Christopher Hopper
,
Heather R. Hunt
,
Becca Johnson
,
Jason Joyner
,
Karen
,
Dawn King
,
Tina Kulesa
,
Lost Genre Guild
,
Kevin Lucia
and
The Bookshelf Reviews 2.0 - The Compendium
,
Rachel Marks
,
Rebecca LuElla Miller
,
Shannon McNear
,
Caleb Newell
,
Nicole
,
Eve Nielsen
,
John W. Otte
,
Robin Parrish
,
Rachelle
,
Cheryl Russel
,
Hanna Sandvig
,
Chawna Schroeder
,
Mirtika Schultz
,
James Somers
,
Tsaba House Authors
,
Steve Trower
,
Speculative Faith
,
Daniel I. Weaver
This tour concludes TOMORROW!
If you have a blog and want to join the CSFFF Blog Tour, visit the official website to find out how: www.csffblogtour.com
~
~