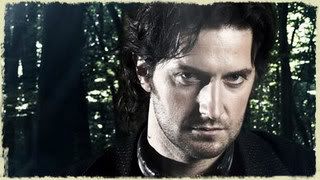 ~
Sir Guy of Gisborne
He's really Richard Armitage in the new BBC
Robin Hood
. He's got that
bad boy in black leather, sorta goth-rocker look.
Me like. It's a minor sort of pseudo-Spike fix, since
Spikey's
gone. Plus: cool black hair. Yeah.
Have you seen the show? It's okay. I'm not gonna jump up and down and gush about it, but it's not totally wretched, either. It's got a sense of humor, action, broody beefcake, and British accents. This is sometimes enough for The Mir.
Edited to Add:
A commenter left
a link to a very cool Richard Armitage fan site
. Lots of pics for girls who, like me, dig heavily on the British hotties. And R.A. is most definitely one of those.