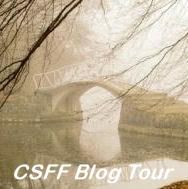 This is a gargantuan blog post, since it includes various sections: an interview, some notable entries from yesterday's blogs that I refer you to, the Gerke Giveaway instructions, the links, and at the very end, my own Birthday Giveaway instructions. So, hang with me.
First: As promised, I submit for your enjoyment a few Q's and A's as The Mir Interviews Jeff Gerke:
Mir: What factors do you think keep SF from having success in the "CBA," when speculative sells in the ABA, and on tv, and in Hollywood, and in comics, etc?
Jeff: Good question. I think the primary factor is that the fiction readership most successfully reached by CBA publishers doesn't like speculative fiction. I cover this in detail in a three-part series on my site: see Tips 16-18.

In brief, the audience who buys CBA fiction is mainly white, American, Evangelical women of child-bearing to empty nest ages. As a group, these women do not like "weird" fiction. Therefore we see Christian fiction titles in genres that this demographic does typically like: romance, chick-lit, women's fiction, etc.

There's nothing wrong with that. It's just the way the marketplace is right now. Publishers give their market what the market wants. That's good business.
Mir: There's been a certain amount of chatter about how if a single Christian SF novel breaks out, sells big, and garners major buzz going, that will be the key to getting CBA editors to notice this as a viable genre for their houses. What do you, with your editorial and publishing experience, think of that theory?
Jeff: I think it's a nice theory but I suspect it won't hold true.

Frank Peretti wrote speculative Christian fiction in the 80s and 90s. Those were undeniably breakout novels that garnered major buzz. But do we have a whole section of spiritual warfare novels in our bookstores now? Is spiritual warfare fiction considered a viable genre now? No.

Then Tim LaHaye and Jerry B. Jenkins wrote the Left Behind novels. Clearly speculative and clearly breakout novels that sold well and garnered major buzz. Do we now have a whole section of end times novels in our bookstores? Are end times novels considered a viable genre now? No.

Same with Ted Dekker. His books sell like crazy, but is supernatural fiction now considered a viable genre? No.

For some reason, a few individual authors get a pass and are allowed by the marketplace to write their speculative fiction. But that doesn't mean the marketplace is willing to say, "Okay, from now on we want lots more like that, no matter who they're written by." No. While this demographic is wide open to new or unknown authors of romance, chick-lit, female-oriented historicals, etc., the same can't be said for new or unknown authors of speculative fiction.

We can each have hope that we'll be the next speculative novelist who gets a pass. May it be so. But my conviction is that the core CBA fiction demographic is not going to change for the foreseeable future, and therefore speculative genres will not find a ready welcome.

However, I think we're on the verge of a revolution. You'll have to read Tip #18 on my site to see why I think a new way is coming for fans of Christian speculative fiction to get the stories they crave, and what that new way will be.

Incidentally, it's not always the editors at CBA houses who think speculative fiction isn't viable. Many of them love it. But getting it published is another matter.
Mir: If you could tell our Christian SF unpubbed authors five things that will help them most in becoming top-notch writers, what would those five bits of advice be--whether it's a recommendation of a craft book, a specific fiction course or workshop, a technique, a habit to develop, etc?
Jeff: I'll compact all five into one: master the techniques in Self-Editing for Fiction Writers by Browne & King.

See Tip #10 to see why I think this is what you should do.

Most of the major craft errors I see in unpublished fiction would be fixed simply by applying the teachings of this one slim book.
Mir: How would you describe the ideal Christian SF novel you'd love to read TODAY? What elements would it have that are guaranteed to thrill you?
Jeff: I don't think you can boil it down into a formula like that. The ideal Christian speculative novel, to me, is the one that sends my imagination soaring, that takes me to a place I've never imagined and makes me believe in it. When something I've read fires my imagination, I'm hooked.

Now, there are lots of craft things you must do to maintain that hook into me as a reader, so mastery of your craft is another element that would be sure to thrill me.

The cool thing about speculative fiction is that you're basically not limited by anything. The stranger or more creative or more unexpected the world and premise you present, the more I'll like it.

I once read a proposal that included little subcreatures who held the world together with strings. That was cool. I once read a fantasy in which spiritual warriors entered another dimension to do battle with demonic creatures. That was cool. I once read a SF in which the lead character had a great game time with a friend, then switched off his power button. That was cool.

So...do something cool and unexpected, set my imagination to soaring, and master your craft. Three easy steps!
Mir: What two novels, one fantasy and one science fiction, are your favorite speculative works, and what about them, do you think, connected so strongly with you?
Jeff: I'll cheat and choose one novel (series) and one movie. It would definitely have to be The Lord of the Rings and Star Wars. Those two stories showed me the power of fiction and made me want to become a storyteller.

Honestly, the common denominator between them was that they were both "hero's journey" stories. The hero's journey was mythologist Joseph Campbell's name for the "monomyth," the one archetypal story that is found in every human culture and civilization throughout time. I personally believe it's the story of God and man.

The Hero with a Thousand Faces is Campbell's famous book on the monomyth. The Writer's Journey by Christopher Vogler is one attempt at harnessing the power of this master story in terms of writing fiction.

My current project is an epic fantasy based on the hero's journey. Hopefully it will have the impact on others that those two stories had on me.
Mir: I encourage Mirathon readers to click on the above link and read an excerpt. Now, Jeff, if you had to name the the most overused and cliched elements in the Christian SF unpubbed manuscripts you've perused, what would they be?
Jeff: Probably the story in which lots of mysterious things are happening and then we find out that behind it all is a demon! I can't tell you how many times I've seen that one.

That doesn't mean you should ditch your story if that's the pattern you're using. Just make it different and original somehow.

Same with the idea of cloning Jesus from the Shroud of Turin .

However, a more common element I've seen in the unpublished fiction mss. I've seen (speculative and otherwise) is a lack of good craftsmanship. That'll get your proposal rejected even faster than using an idea that's been done before.

In fantasy, I see way too much use of Tolkien's elements: elves, dwarves, halflings/hobbits, wizards, rangers, dragons, etc. It's true that Tolkien basically invented modern fantasy, but that doesn't mean we should be restricted to the elements he pioneered. I think we should be looking for original elements to use in our fantasies. Or else delve into folklore and mythology for ideas.

I recently watched

The Lady in the Water

. What a great modern fantasy that movie is. I suspect the creatures displayed there are from Chinese or other ancient folklore, but they sure felt fresh to me. Compare that to, say, Eragon, and its use of stock characters and usual suspects. It might be a great story but the elements were pretty common.
Mir: I did a series of posts over at Speculative Faith on voice and style. Since I have you here, could you kindly define or explain what an editor means when he or she says they're looking for "a fresh voice." What exactly is "voice" and what makes it fresh?
Jeff: I can't speak for another editor.

However, I will say that many CBA editors truly desire to publish fiction in genres besides the five "accepted" ones I list in Tip #17. These editors like different genres and often actively bring them to the various publishing committees at their respective houses. But they usually fail, mainly because these off-genre novels are not what the market has said it wants. You can't offer a market something it doesn't want--not for very long and not if you want to stay in business. So we have a number of moderately frustrated fiction editors at some CBA houses.

If an editor says she's looking for a fresh voice, she might be signaling her desire to find that exceptional off-genre novel that will be able to make it through to the committees and all the way to publication.

"Voice" is your style. It's how you sound when you write. It's not really that mysterious. Your manner of verbal speaking is distinct from someone else's. Same with your manner of expressing yourself in writing.
Mir: Now that you offer your editorial services as a "free agent," you'll be getting lots of clients, surely. What would you say are your greatest strengths as an editor?
Jeff: Thank you for that permission to advertise myself [grin]. Well, one of my assets is that I love working with aspiring novelists, especially aspiring Christian speculative novelists. I remember well what it's like being on that side of the equation. I think I'm a good encourager as well as someone who can help with craftsmanship.

I also find I'm good at seeing the big picture of what's working or what's wrong with a novel. I look at every manuscript as a puzzle or a mystery, or possibly as a sick patient whose condition has thus far defied diagnosis. God has given me the ability to see through to the essence of the thing and put my finger on what's really going on. My clients have said they've found this very helpful.

I also like to teach the novelist how to be a better writer instead of just taking the book myself and "fixing" it. It sounds like that would be counterproductive, that I would teach myself out of clients because they'd no longer need me. But I've found the opposite to be true. Writers who want to learn (and teachability is so important if you want to succeed in this business) tend to come back for more. Gluttons for punishment, I guess!

Okay, I think my own horn is sufficiently tooted. Thank you. My editorial services page is here.
Mir: You get to spend a month in any estabished speculative world--Ringworld, Discworld, Arrakis, Wonderland, Middle Earth, Narnia, Fairy Tale Land, The Dreaming, Amber, Babylon 5, Marvel Comics world, Star Wars world, Star Trek world, Foundation world, ANY world you'd like. Which world would you visit and who would you be in it?
Jeff: Ack! You're making me choose? Please, no! I want to be in all of them!

Okay, I'll pick, but not just one. [wink]

I'd definitely be in the Battlestar Galactica universe as a fighter pilot. Something about space carriers just does the magic for me.

Then I'd be in Middle-Earth serving as a ranger with Faramir or defending the walls of Helm's Deep.

I'd be on Serenity piloting my own cargo ship.

And I'd be in Aliens as a space marine.

I'd also be in my own epic fantasy as a paladin. In my story the paladins are an elite special forces unit like Army Rangers. But they're Christian holy warriors somewhat like samurai or Jedi. Yeah, that's where I'd be.
Mir: Is there a question you've always wished an interviewer would ask you? Please ask yourself the question and share the answer.
Jeff: How about this: What's new and exciting about WhereTheMapEnds.com?

To which I would answer:

Glad you asked! I've decided to try a grand experiment at the site. We're going to be doing a collaborative fiction project together. Woohoo! Anyone who wants to can come join our group as we create the worlds, characters, species, and plot for our Christian speculative story, and then write it. The premise: a fantasy world is invaded by high-tech SF outworlders. Both worlds have good guys and bad guys. It's swords and sorcery against lasers and technology. The fun begins March 1 at www.wherethemapends.com.

Thanks, Mir!
Mir: My thanks to

you

, Jeff. It's great getting to toss Q's at you.
Rachel (aka Pixy) has a terrific interview
that she posted over at her site. Be sure to drop by. And check yesterday's post by
Sharon Hinck
, where the interview focuses more deeply on Jeff's project and upcoming projects that he's had a hand in editing.
Also, in case you missed
Gene Curtis'
excellent blog tour post yesterday, just drop by and check it out. Here's a sample on the subject of that glint in Jeff's eye, Lord Marcher Press:
Yeah Baby! I for one would love to see it come to fruition. Imagine a publishing house devoted to Christian speculative fiction and run by someone that loves the genre.

If you want to encourage Jeff to take the plung and go ahead and start Marcher Lord Press, there are 3 things he tells me he needs.

§ Seed money
§ Great talent
§ Sound advice on structuring a business model that suits him

You can help Jeff in many ways. First and formost, prayer. If God wants it to happen, it will happen.
And now is the time on Mirathon when we give the Gerke Giveaway details, for those who missed it yesterday:
HOW TO ENTER THE GIVEAWAY
Jeff has donated prizes for a Mirathon/CSFF Blog Tour giveaway as follows:
3rd Prize: "CharPick" minor character creation software program (Windows only) ($12)
2nd Prize: "Character Creation for the Plot-First Novelist" (Windows only) ($28)
and
1st Prize: A five-page crit from Jeff ($38.00 value)
All you have to do is
comment under this post or tomorrow's blog tour post with your first name and surname initial
(in case there are two with the first name) is fine. If you have a website, post that, too. I might wanna visit you. But really, just a comment that says,
"Enter me in the Gerke giveaway"
with your name.
You'll have to stay tuned here to find out who wins, because I will not be emailing the winners.
The winners will need to EMAIL ME
, as soon as you see I've posted YOUR name as winner.
I will post the names of the three winners on this blog by Friday and that post will include my email information.
BONUS ENTRIES:
You will receive one entry chance per day for the Jeff Gerke donated prizes. So, if you post all three days with "enter me in the Gerke giveaway," then you get three entries for that drawing. Post an entry request one day, one entry. Post two days, two entries.
I've already taken down and posted all the names for Monday's giveaway. Monday's entries are closed. Feel free to post today and tomorrow for a total of two chances.
After the blog tour concludes, I'll just put names in a sack and let my gorgeous husband stick his hand in and pick the winners.
Please drop by several (or all!) of the blogs below, my tourmates this month:
Nissa Annakindt
Wayne Thomas Batson
Jim Black
Grace Bridges
Jackie Castle
Valerie Comer
Karri Compton
CSFF Blog Tour
Gene Curtis
D.G.D. Davidson
Chris Deanne
Janey DeMeo
Tessa Edwards
April Erwin
Kameron M. Franklin
Linda Gilmore
Beth Goddard
Marcus Goodyear
Andrea Graham
Todd Michael Greene
Leathel Grody
Katie Hart
Sherrie Hibbs
Sharon Hinck
Christopher Hopper
Jason Joyner
Kait
Karen
K. D. Kragen
Tina Kulesa
Kevin Lucia
and
The Bookshelf Reviews 2.0 - The Compendium
Rachel Marks
Shannon McNear
Rebecca LuElla Miller
Eve Nielsen
John W. Otte
John Ottinger
Robin Parrish
Rachelle
Cheryl Russel
Hanna Sandvig
Mirtika Schultz
James Somers
Steve Trower
Speculative Faith
Daniel I. Weaver
Timothy Wise
Now, for the special
MIRATHON BIRTHDAY GIVEAWAY:
Since we have an author/editor on board this tour with that 5-page crit, I'm going to do a complementary Mir Giveaway.
Send me your first two pages of your Christian SF work-in-progress. Just two pages. And send them in the BODY OF AN EMAIL, not in an attachment. In the SUBJECT LINE, put this: Entry for the Mirathon Birthday Giveaway.
I will jot down all the email names and select one in a random drawing. The winner's email will get read, and I will send the writing craft book I feel will best help the writer get that work in shape.
That means if I notice you have a problem with nailing a voice, I'll send a book on voice. If I note you have a problem with POV, I'll send a book no POV. If I note you have a weakness in dialogue, I'll send a book on dialogue. If you have absolutely no hint of conflict, you'll be getting a book on conflict. If I feel as if I'm in a colorless, featureless void while reading, I'll get a book on setting to you. Or if I note multiple soft spots, I'll send a more general purpose book that I've used and judge to be superbly useful.
I crit your two pages, and then I send you a craft book to strengthen your writing.
If that interests you, email me the two pages (equivalent of two double-spaced manuscript pages) to Mirathon who's at AOL dotsydotsy com. (Stop snickering.) Please make sure that in the email, I can see the form, that is, I can tell when new paragraphs start and where scenes change (if they do).
Please be aware that, should you win, I will need your mailing address to get your craft book to you via amazon.com. Well, okay, yeah, duh. Just like to mention that.
I'll also check with you to make sure I don't send you what you already have. (If you own every well-known writing reference and craft book, you may wanna skip this.)

NAMES FROM TODAY'S COMMENTS FOR GERKE GIVEAWAY:

John O (Otter)
Jason J.
John O (Least Read Blog)
Mark Goodyear (taken from yesterday's comments today)
Becky Miller
Alice L
Valieric C
Shannon McN
Katie H
Jackie C

(That means two chances so far for John O (Least Read), Jason J, Becky Miller, Alice L.)