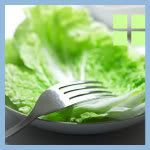 With the new year comes a new eating plan. This one, I delight in saying, requires no cooking of me. Since I am officially one of the worst cooks ever to walk upon the sod of planet Earth, this is a step-up. Or has to be. I haven't tasted the food yet.
And here's the plan:
Diet-To-Go
I just got my first shipment in a roomy cooler: a full 7 day's worth of ovo-lacto VEGETARIAN breakfasts, lunches, and dinners, cooked this past weekend, vacuum-sealed, frozen, and sent my way via UPS. No preservatives. No fillers. No excess salt.
If ya wanna see what I am eating this week, go to the
VEGETARIAN MENU
and scroll down to WEEK TWO.
The stuff LOOKS yummy. Whether it is or not remains to be...tasted. I'll report in later on.
It's costing me $142 (including shipping in that large cooler), which is less than what I spend now eating out or ordering in every day. (I did mention I can't cook worth a damn, right?) With breakfast and brown-bag lunches for hubby (a few days a week) and his simple food requirements, we'll likely end up spending less for the two of us weekly. We shall see.
I really hope I like their cooking. It works out to 1600 calories a day (to which I might add a couple hundred more in fruit and nuts at the outset. And yes, I can lose at 1800 cals. I've done so in the recent past.)
Tonight--black bean chili with jalapeno cornbread, sour cream, and herb dip.
I'm salivating already.
They also have a low-carb menu with stuff that sounds amazingly yummy, I must say. (I was tempted.) The low-fat menu looked okay, too, but too much turkey for my taste. I really loathe ground turkey (in meatloaf, in patties, in meat sauce), so I avoided it just on that basis. You can make substitutions, btw. And this is a weekly thing, so if you don't like it, you can cancel (as long as it's before noon Friday, or the shipment will go out.)
If you, by some chance, decide you want to try Diet-to-go.com (without waiting for my verdict on the food), let 'em know I referred ya. Mirta Schultz. I have no idea if I get some goody for the word-of-mouth, but I'll take any bonus I can get.
Oh, and I'll let you know if it tastes icky, too. I'll be honest.