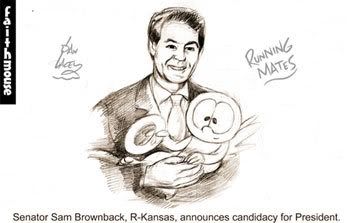 The talented and unequivocally pro-life (like moi)
Faithmouse
has drawn up new presidential candidate Brownback with Neverborn. (I think you can guess by the name who Neverborn represents.)
I discovered Faithmouse today via Nissa's link. I really love the Paypal button with Neverborn. And if you scroll down, the ACLU as Baddie toons are cute, too.
Today was the March for Life. When I first heard about the Marches for Life, back in the early 80's, I was at my most pro-life active. Yeah, the Mir used to stand out there with ABORTION KILLS CHILDREN signs, peacefully and prayerfully, forgiving hecklers and spitters. I've supported pro-life organizations, and I still hope to see the my nation come to its senses on the subject, however unlikely that seems in an era where embryos are mere commodities. I've shifted the emphasis of my hopes and prayers to revival and awakening, great ones, to sweep across the land, from low to high, rich to poor, believing and unbelieving. That will lead to moral laws more surely than anything else. Set the soul on fire and the mind will follow.
Glad my mom didn't see me as disposable or something to be experimented upon.
So, to those who marched, God bless you. To those who still pray, pray on. And know that the souls of the neverborn children are at rest, and that, at least, is a solace.