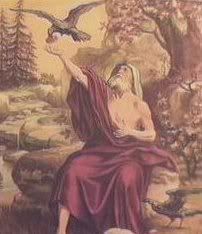 I told you I'd have it up today at
Speculative Faith.
I fortified myself with roast turkey breast and stuffing and mashies and veggies and a salad and a cola. I'm only partially revived. Maybe, instead of fairy tales, someone needs to resurrect The Mir over here.
Anyway,
Part Three of "How To Bring Myths & Fairy Tales Back From The Dead & Into The Light"
is done,posted, and ready for you to comment to your hearts' delights.
Today's installment visits ravens in myth and fairy tales, and how to add Biblical realities to the fantasy of the stories. I offer questions to help you write your retold myth or wonder tale. And, I answer the question about what myth inspired one of C.S. Lewis' novels. That myth (and the novel) will be part of future Friday posts at Speculative Faith.
Now, I mean it. Go comment. It might perk me up.