Welcome to the last day of this edition of the Christian Science Fiction & Fantasy Blog Tour that focuses on
DRAGONS, KNIGHTS & ANGELS MAGAZINE
.
In case you haven't dropped by
Pixy's blog
(Pixy=Rachel Marks), let me clue you in to the interview with the delightful Selena Thomason, managing editor of DKA. Here's a sample of that Q & A:
What is it you're looking for at the mag?



We want science fiction and fantasy that has some kind of religious theme or content. That content doesn't have to be obviously Christian. In fact, it often works better if the religious content is subtle, if the parallels are there when you look for them but aren't readily apparent if you don't. We are also looking for speculative poetry, preferably with the same sort of religious or Christian edge.

Right now we are getting a lot of fantasy and poetry. We'd love to see more science fiction. Just make sure it fits our guidelines.



What would be your dream story?



That's tough to define exactly, but we know it when we see it. I would say that our dream story would be well written and compelling, and contain these elements: complex and interesting characters who learn something and change over the course of the story, a strong plot, originality, some religious theme or lesson (but without being preachy), a good hook at the beginning, a middle that holds the reader's attention, and an ending that satisfies, i.e. that feels like an ending and is appropriate to the rest of the story. We tend to not like endings that feel like setups for a sequel.
An interview with yours truly is posted (part one, anyway) over at
Jason's blog.
What will become quickly evident is that I'm not nearly as diplomatic, gentle, poised, and sweet as Selena.
You already knew that, you say? Ah, well.
That's good for DKA, though. Think about it. None of us has the exact same taste as the others. None of us critique in the same way as our fellow staffers. So, when we all like a story, that means there's a good chance a wider range of readers will find something in it to enjoy. (Not that we all critique every story, as I indicated in the previous post.)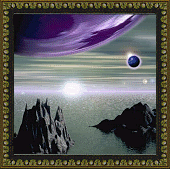 One less-talked-about subject is art. We don't use a lot of it, but the site does have some illustrated stories. (See "Sorrow's Shroud" and "The Waters Stir" for examples.) We also have small art images marking the upper left of different pages of the site. I like the spacey digital art that becomes visible in the upper left when you click on the sidebar for "Submissions" and "Vision." (See it at left.) My second fave is the spooky forest in "Other Places." (see below right.)I'm not overly keen on our misty-o-green dragon, other than I'm fond of green.
If you submit a story to DKA, and you have artistic talent, too, why not ask about submitting (for consideration) an illustration for a story of yours we accept? If we like it, we use it. Or maybe you have an artist friend who will allow some suitable artwork to be used (the image only) pro bono.
Think about it.
If you have any brilliant ideas on attracting more readers to DKA, comment away. We are always trying to broaden the audience.
And if you're that affluent Christian SF-loving sugar daddy or honey momma I've been dreaming would come our way, we accept Paypal. And hey, checks! And we'll be your BFF forever.
Now, the blogroll for the CSFF Blog Tour this month:
Jim Black
Jackie Castle
Valerie Comer
Frank Creed
Christina Deanne
Beth Goddard
Rebecca Grabill
Todd Michael Greene
Leathel Grody
Karen Hancock
Elliot Hanowski
Katie Hart
Sherrie Hibbs
Sharon Hinck
Joleen Howell
John Otte
Jason Joyner
Karen's MySpace
Oliver King
Tina Kulesa
Kevin Lucia
Rachel Marks
Shannon McNear
Rebecca LuElla Miller
Cheryl Russell
Mir's Here
Mirtika Schultz
James Somers
Stuart Stockton
Steve Trower
Chris Walley
Lost Genre Guild
Speculative Faith
This is the last post of this blog tour, so this is the last post on Mirathon that will accept requests to be entered into the Five Page Crit Contest. If you're interested in having five pages of a story or novel opening, or one short poem, critiqued by moi, then please leave a comment asking to be entered in the contest.
I will allow hold off on choosing a winner for a couple of day. This gives the other bloggers on the tour time to send me the entries from their sites (if any). (Fellow tourmates, please email me the entries at Mirathon atsy AOL dotsy com, and please do so before Friday of this week. Thanks.)
I expect to select a winner by Saturday.
Thanks for visiting with the CSFF Blog Tour. And please come by and hang with us at
DKA.