Note: These are camera cell phone pics, so not the best quality. Sorry. But try to enjoy, anyway. And assume we're cuter in person. I like delusions. :)
Didn't blog yesterday 'cause I wasn't home. It was a double birthday party for my nephew, Kiko, and his daughter, Catie, who is my grandniece. See Catie and my grandnephew Xavi in the above pic, posing with the colorful, home-made cake.
I did my part to add healthful comestibles to the feasting: I took over a mozarrella caprese salad (fresh organic basil on top) over a bed of fresh watercress. Some chips with authentic salsa from the Mexican place (I won't eat the jar stuff. All of them suck.) Some crown roast of pork made by a gourmet shop nearby. Some very nice chianti, out of which I made the best sangria I ever tasted, if I do say so myself. My sisters loved it, and I am under orders to make more for the holidays. I also brought some amazingly tasty organic grapes, fresh pineapple, cantaloupe chunks, and mango slices. (Gotta get those fruits!) Oh, and a bottle of Riesling, cause I hadn't had white wine in ages. It was quite pleasant.
My sister-in-law, Miggie, made scrumptious
alcapurrias
(a Puerto Rican yummy.) My eldest sister, Chencha, made
congri
(the black bean version, though you can make it with red kidney beans, which is how I prefer it, personally) and
churrasco
and boiled
yuca
. We had two cakes, a fancy one made by my niece, Susy, decorated with little animal figures that my niece Catie collects. And a simple square double-chocolate for my chocoholic nephew, who turned 40.
Now, that makes me feel real old. My nephew is 40. Halloween of 1966, I dressed up as the Virgin Mary and he, only 10 days old, was Baby Jesus. Sigh.
Pics time:
First, from my sister's backyard in Miami, Baby "Lucky" (aka Ashley) with her godmother-to-be, Susy, my niece, daughter of my eldest sis. Susy has alopecia universalis, ergo the lack of hair. But she's got a great heart and a good soul and I'm hoping God sends her this Christmas the present of a godly and dang sexy suitor. We want more babies in the family!
Another pic of the star of the Saturday show, the popular Miz Lucky: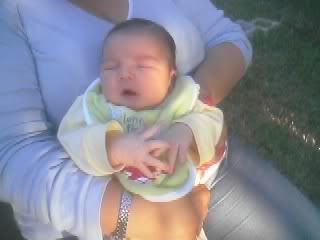 Now, for the Teutonic Hunkorama, aka, my hubby Carlito (aka Charles aka the pink-n-white Snowbunny of Love):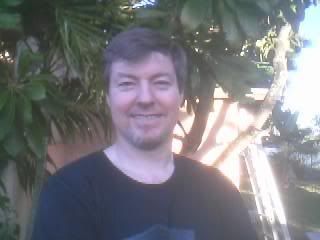 And the Mir, herself, a bit too much in the sun, which was quite bright and warm for a late October day:
Except for some moments when I got sad and teary in the small bedroom where my mom lived the last years of her life, and where she died--and where Ashley got her breast-made supper Saturday--I had a mighty fine time.
Just wish mom and pop (aka Mami y Papi) had been there to see Lucky glow and Catie turn 8.