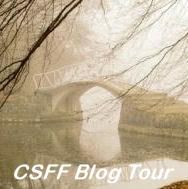 The Christian Science Fiction & Fantasy Blog Tour continues with its focus on
DRAGONS, KNIGHTS & ANGELS MAGAZINE.
Today, I want to mention the DKA staff, its community, and the wider DEP family.
What is she talking about, some out there may wonder, and what's with the acronyms?
DKA you already know--or should. (Hint, see first paragraph or previous post). DEP stands for Double-Edged Publishing. This is a non-profit organization run by Bill Snodgrass (ie, donations are tax-deductible) that supports severeal online publishing ventures: DKA, The Sword Review, Ray Gun Revial, and Haruah.
All these webzines have some other things in common. They're run by volunteers, for one. Secondly, they try to offer quality stories and poetry and (in some cases) essays/columns for those interested in SF (the first three zines) and mainstream/literary fiction and poetry (Haruah). All depend on donations. All encourage community. All are labors of literary love.
Some pay, some don't. DKA does...but not much, not much at all. You might get one or two venti lattes out of it, depending on what you submit.
Our currently active DKA staff--and, oh, lawdy, I hope I don't forget anyone!--includes:
Selena Thomason
(managing editor)
Keesa Renee Dupre
R.V. Saunders
Rosemary McMillen
(but you can call her "Rose")
And moi--
Mirtika Schultz
(I'd like to send a cyber sisterly-smooch to
Cameron Walker
,
TSR
staffer, who has been helping us lately, when he can.)
So, how does the DKA staff function?
Like this: When you submit electronically, we editors get notified by email. We come to the DKA editorial section of the forum to read, discuss, and grade the submissions. If we're slow, we generally require three editors to give a submission the thumbs up or thumbs down or give feedback for revisions. When we're uber-busy, we may will accept, request revision, or decline on the agreement of two editors. Selena then gets back to the submitting writers with the outcome. If we asked for revisions, it's then up to the writer to send them (at their pace) or not.
Sometimes, we decline something because it's not a right fit--not because it's poorly executed. Most times, yeah, we think the craft is not up to the other offerings we can choose from, so we say, "Sorry, not for us." Other times we work through one or more revisions to get a work with promise to a better place.
But it's never easy to say no.
Conversely, we all get a kick out of a unanimous "YES!"
As far as our
DKA community
, the forum area has threads for all manner of things--general topics (which houses The Coffee House place for chatter), SF news, discussion threads for each new story or poem, reviews--all are mine or Elliot's, so far, but if you register for the forum, you may post your reviews. I encourage you to post, in fact, reviews of Christian SF that you've loved, or of secular (but not Anti-Christian) SF you recommend.
It's not hard to register. Consider it.
If you have friends who might enjoy what DKA has to offer--to read or in terms of a hang-out--refer them. We have one thread for introductions. Say hi!

Visit our FAQ
if you need info on how to get around.
Update on Crit Contest: As of right now, I have two names in the drawing for a free five-page editorial critique (or short poem crit)-- Valerie Comer and Jason Joyner.
If you'd like a chance to win this crit from ME, post a comment saying you'd like to be entered in the contest.
Now, visit my tourmates, and see what they have to say today about DKA:
Jim Black
Jackie Castle
Valerie Comer
Frank Creed
Christina Deanne
Beth Goddard
Rebecca Grabill
Todd Michael Greene
Leathel Grody
Karen Hancock
Elliot Hanowski
Katie Hart
Sherrie Hibbs
Sharon Hinck
Joleen Howell
John Otte
Jason Joyner
Karen's MySpace
Oliver King
Tina Kulesa
Kevin Lucia
Rachel Marks
Shannon McNear
Rebecca LuElla Miller
Cheryl Russell
Mir's Here
Mirtika Schultz
James Somers
Stuart Stockton
Steve Trower
Chris Walley
Lost Genre Guild
Speculative Faith